Relax in a stylish art deco 1930s seaside folly with sea views for miles
Pricing
2023
Low season

3 January to 30 March and 16 October to 15 December

2 nights

£583

3 nights

£730

7 nights

£1,416

Mid season

17 April to 30 June and 11 September to 15 October

3 nights

£933

7 nights

£1,749

High season

31 March to 16 April, 1 July to 10 September and 16 December to 2 January

3 nights, Easter and Christmas only

£1,012

7 nights

£2,249.50

2024
Low season

3 January to 27 March and 28 October to 20 December

2 nights

£585

3 nights

£749

7 nights

£1,416

Mid season

15 April to 5 July and 9 September to 27 October

3 nights

£980

7 nights

£1,836.50

High season

28 March to 14 April and 6 July to 8 September and 21 December to 5 January 2025

3 nights, Easter and Christmas only

£1,063

7 nights

£2,362
Location
Address

La Grande Route Des Mielles, St Ouen, Jersey, JE3 2FN

Bus route

22
Floorplan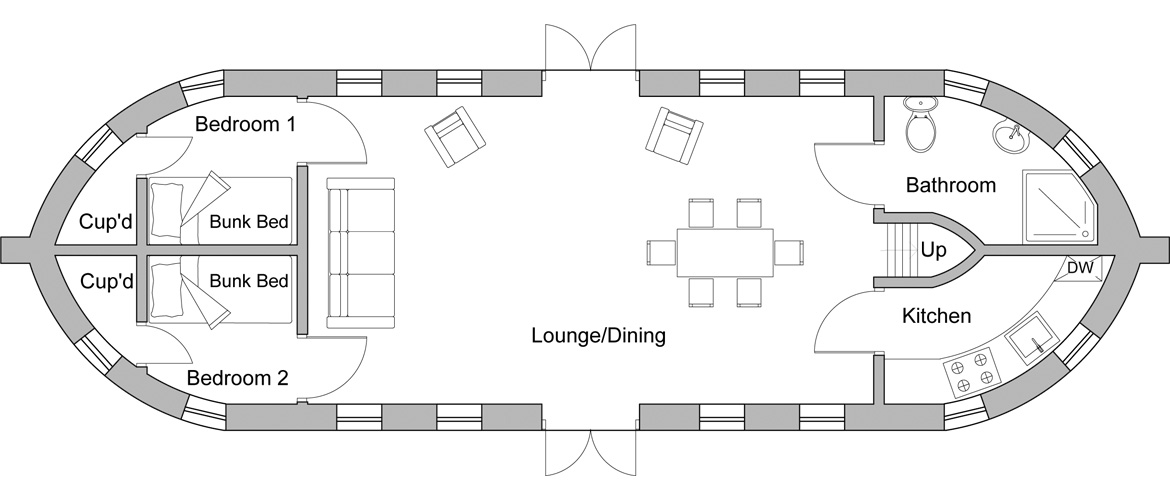 Facilities
Two bunk rooms with two single beds and one small double sofa bed
Shower
Oven
Fridge & freezer
Dishwasher
Microwave
Crockery & cutlery provided
Central heating
TV screen with DVD player (no TV reception)
Private patio area with garden furniture and direct access to the beach
Parking
Dogs allowed. £10 per dog per night up to a maximum of £50 per dog per stay
Cot available on request (linen not provided)
Beach location
Wi-Fi not available
Terms & conditions
These are the terms which apply to the contract in relation to your booking of a Jersey Heritage
Holiday Let. For the purpose of these terms, you (the person making the booking) are referred to as the 'Guest' (or 'Guests'), 'you' and/or 'your'.
Please take the time to read these terms carefully as they explain important information, such as
terms of cancellation, security deposits and other important information.
Your booking must be for holiday purposes only. You may not sublet the property or use it for weddings or parties, unless otherwise approved by Jersey Heritage (JH).
Arrival and departure: the property will be available to you from 3pm on the first day of the booked letting period. All Guests and occupiers, luggage, property, vehicles etc. must vacate the property and associated land completely by 10.00 am on the last date of the letting period. If a Guest (or their guests) fails to vacate the property or associated land by this time, JH reserve the right to deduct an amount from the security deposit to cover the extra period of occupation and any extended or delayed cleaning arrangements caused by the delay.
The number of people sleeping at the property must not exceed the number stated on the booking form.
The lighting of fireworks on land surrounding the site, the use of candles and smoking inside the property are strictly prohibited.
No tents, marquees or other temporary structures may be erected on land surrounding the property.
Dogs are allowed at Barge Aground, Fort Leicester, Kempt Tower, Fishermans Cottage and La Crête Fort only; they must be supervised at all times and are not permitted to go on the furniture. Dog waste must be cleared from the surrounding area in an appropriate manner. The grounds are checked before and after each booking and if dog waste is not cleared, we will charge an additional fee, deducted from the security deposit.
Our properties are important historical sites with many original features. They do not have many of the health and safety features required of modern buildings, it is therefore essential that you and your guests behave responsibly, and that children are supervised at all times. Our properties are fitted with smoke alarms and fire extinguishers.
Vehicles may only park in the designated area.
Should there be a disturbance at one of our properties or should local residents be affected as a result of your stay, then your hire may be terminated resulting in the loss of your hire fee. In this instance it is not the responsibility of Jersey Heritage to provide alternative accommodation.
Any problems whilst you are staying at the property or grounds for complaint should be reported immediately to a member of the Jersey Heritage Lets team or the site supervisor. We will endeavour to address any issues as soon as is reasonably possible. Failure to do so will prejudice a claim irrespective of its merits.
Although all information regarding prices, availability and on-site facilities are correct at the time of going to print, we reserve the right to change any details contained in published information at any time.
Fifty per cent of the total hire price is required as a non-refundable deposit upon booking. The full balance is due two months prior to your arrival. Should your booking commence within two months prior to your arrival then the full amount is required upon booking.
Once we have received your booking, the deposit payment has been received and a
confirmation sent, a contract has been entered into that includes all of the listed conditions.
Payment of all required amounts when they are due is the essence of the contract.
An initial enquiry over the telephone or via email does not constitute a booking. A
booking is firm when full payment of the deposit has been received and confirmed to you in writing.
When you make a booking, you declare that you are over 25 years of age and will be present for the duration of the hire. You have full responsibility for all persons who will use the property during the period booked, and affirm that you have read and fully understood our terms and conditions.
We will not accept bookings on behalf of another individual – for example, a parent hiring on behalf of their teenage child or a member hiring a property for a non-member.
Data Protection
Jersey Heritage collects and processes the personal data that you submit as part of your booking or enquiry for a number of purposes, including the following:
To respond to your enquiry
To process your booking as part of our contract with you
As part of our legal obligations, e.g. for health and safety purposes
To enforce our rules and policies
To comply with orders/requests received from public and regulatory governmental and judicial bodies, e.g. States of Jersey Police for emergency response and anti-social behaviour
If you give your consent, we will also use your personal data to contact you and notify you of any special events, organisational developments and promotions offered by Jersey Heritage.
You can remove this consent for marketing at any time by contacting enquiries@jerseyheritage.org or simply unsubscribing from our e-shots.
Storage of Personal Data
Data is stored electronically off-site by a third-party data storage provider. To ensure that your personal information receives an adequate level of protection, we have put in place appropriate procedures with the third parties we share your personal data with to ensure that your personal information is treated by those third parties in a way that is consistent with, and which respects, the law on data protection.
Your data will not be disclosed to any other 'third party' unless required by statute or by obtaining your express approval.
For more information please see the Jersey Heritage Privacy Policy or contact dpo@jerseyheritage.org
Pricing from
£ 33.71pp
PP per night
Sleeps 6
Self catering
Dog friendly
Simply Wonderful

Cleanliness, furnishing and equipment fantastic - even the sofa bed was super comfortable. Ease of booking and getting the keys was faultless. The spot is truly magical.

Fantastic venue in a stunning location

Wonderful stay relaxing peaceful in the most incredible location. Good facilities kitchen well set up, very clean and well equipped.

A perfect place to recharge

My family and I stayed for a week at Barge Aground and while the weather was not as we expected for the last week in August . Barge aground gave us the time and space to enjoy each others company , read , play games , write songs, enjoy scenic walks and food from various eatery's in the area
Positioned in stunning St Ouen's Bay, Barge Aground (also known as Seagull) was built in the 1930s and is the last of the traditional seaside follies that once lined the bay. This art deco delight has direct access to the beach. Accommodating six people, Barge Aground's decor has an authentic 1930s flavour, with walnut wooden floors and some original 1930s furniture.
Uniquely shaped like a barge, the property has two adult twin bunk rooms located in the 'stern' of the property, while the kitchen and bathroom are off the large lounge and diner. There is a comfortable double sofa bed in the 'prow' of the building. Double doors open onto a large terrace, which overlooks the bay and is perfect for outdoor living or for cocktails whilst the sun goes down.
Barge Aground is great for either a family break or a romantic break for two. The property is close to many beachfront cafes and restaurants along St Ouen's Bay. There are several surf schools close by and two golf courses are also just a short distance away.
How many does this property sleep?

Barge Aground sleeps up to six people in two, twin bunk rooms and one small double sofa bed in the living room. Please see the floor plan for further information.
Can I hire the property for one night?

The minimum number of nights available for all of our properties (except for guided experience properties) is two nights. Please refer to the pricing section to see the number of nights available for each season.
How do I collect the keys?

Upon confirmation of your booking you will be sent a unique key code, which opens the secure key box on-site.
Does the property have parking?

Yes, there is plenty off street parking available.
What are the bathroom facilities?

There is a shower room with one toilet.
What heating does the property have and does it have a fire?

Barge Aground has underfloor heating in the kitchen and bathroom, with electric radiators in the lounge and bedrooms.
Does the property have a washing machine or dishwasher?

Barge Aground has a dishwasher, but no washing machine.
Are dogs allowed to stay in the property?

Yes, up to two dogs are allowed to stay at the property with an additional cost of £10 per dog.
Is there a garden?

Barge Aground has a paved patio area with fantastic views overlooking St Ouen's Bay. The property also has direct access to the beach and is located within Jersey's only national park, so you will never be short of outdoor space! There is no access to the roof.
History
Why has Jersey been one of the most heavily fortified parts of the British Isles?
History
Apple orchards and cider-making are an intrinsic part of our history, having once shaped the landscape, culture and economy of the Island.
History
Claude Cahun (1894-1954) was an artist, photographer and writer. She is best known today for her surreal self-portrait photographs.